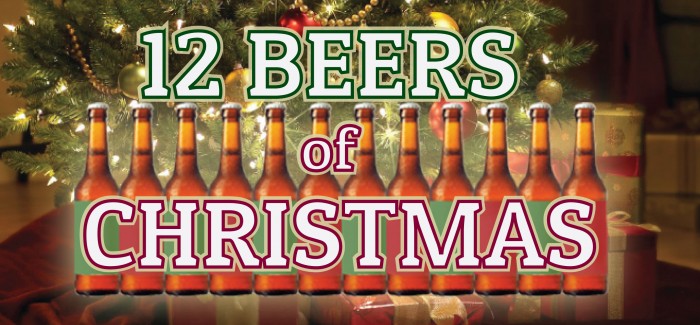 Its that holiday season, time to bring some Christmas cheer. Time for adults to get a couple days off of work and spend their hard earned money on gifts for friends and family. This year my wife and I will be traveling out to Phoenix, AZ to visit my family. Enough about me and my family stuff. This year I will be starting a new tradition on Bill's Beer Report called 12 Beers of Christmas. This isn't an original idea, but I think it will be fun.
In order to start the 12 Beers of Christmas count down I need 12 beers and special 13th beer for Christmas day. Each beer will be reviewed as the countdown to Christmas goes on. I decided to start my 12 Beers of Christmas by visiting my local craft beer store,
8 Degrees Plato
. They have such a great selection, and the store is less then a mile away from my house, which is awesome. Their mixer sixer deal, 10% off your six pack at check out, really is stupendous. So of course, I utilized this with my two mixer sixers that I purchased along with my special 13th beer for Christmas Day. I tried to keep my selection as Christmas related as I could, but I will admit, not all of them have a Christmas theme.
Now that I have my beers selected I can start the drinking and then reviewing.
For the first day of Christmas my craft beer store gave to me ONE Great Lakes Christmas Ale!
ABV: 7.5%
Great Lakes Brewing Company's
annual
Christmas Ale
always pleases the taste buds. It has a pleasant winter spice in both smell and flavor that makes me feel all warm and cozy inside. I love the cinnamon and honey taste as they tickle my taste buds. The color is a nice amber with a white head and minimal lacing on the glass. This is one of my favorite winter time ales, its great to drink it by a fire or out at the bar.
One of the good things about living in Michigan at this time is how craft beer has really boomed throughout the area. Though
Great Lakes Brewing Company
is based in Ohio, it is very easy to get a six pack of their many different beers here in Michigan. So if you have a chance, and enjoy the cinnamon and honey taste in your winter beer, go out to your local craft beer store and pick up a six pack.
Thats it folks, the first beer of Christmas is in the books. Now wasn't that fun? I think so, then again I am drinking while I write this. I hope you all have a fantastic week, and go out and enjoy some great beer. If you are in the Detroit area, I suggest getting downtown to
HopCat
for their grand opening weekend. They will be serving up delicious beer and braking world records. See what I am talking about
here
.