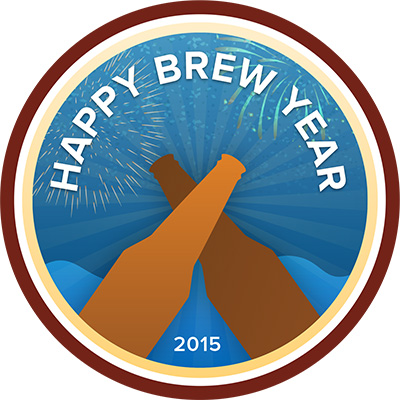 Happy Brew Year Untapped badge,
check-in starting 12/31 through 01/04
Lets party like its 1999 and celebrate another fantastic year. It was a big year for me. I got married to my wonderful wife Ashley, we went on a wonderful two week honeymoon to the east coast (DC, NYC, and Boston), I started blogging again and I continue to rock at my job. What have you accomplished in the past year?
Looking back through the year can only last so long. Tonight is New Years Eve and that means looking ahead to another year. 2015 should be another great year. My wife will be graduating from Nursing School and will start making me some money (love you dear). Work will be work, I may get a title change in the next year, which would be fun. I hope to continue to blog about my wonderful beer adventures, and coming soon a Podcast in addition to the blog. What kind of plans do you have for the new year?
Tonight I will be celebrating the new year by having a wonderful dinner with my wife, and cracking a couple fantastic beers. Allow me to take a minute and gloat about how amazingly awesome my wife is. For my Birthday she signed me up for
The Original Craft Beer Club
. Each month I will receive a 12 pack of four different beers. I got my first box of beers in yesterday.This month I received the following:
Along with the beers, the first box came with a pretty sweet bottle opener, and since I am a bottle opener fanatic I loved the gift. This bottle opener is one of the nice ones, it has some weight to it, and it doesn't bend the bottle caps when you open a beer.

Along with the beers, each box includes an information sheet on the breweries where the selected beers were made that month. It is very cool, it gives a history of the brewery along with information on the beers. On the back of each sheet they also include food recipes that will go well with the different beers and beer trivia.


This was a perfect gift for a craft beer enthusiast like myself. It will allow me to sample beers from many different areas that I would otherwise be able to find. I am looking forward to more boxes such as these. Reviews of these beers to come.